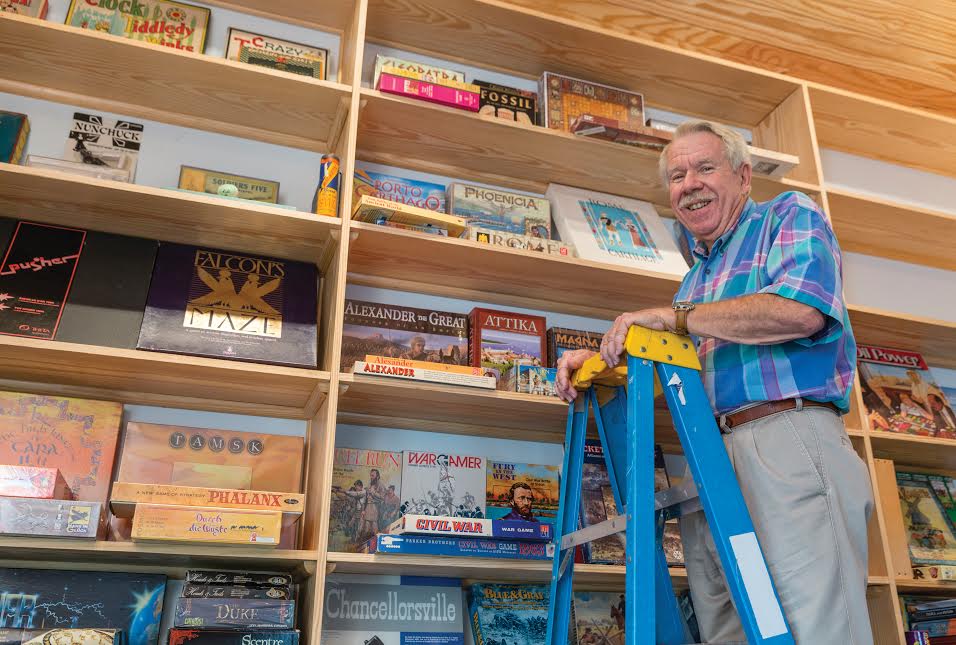 story by mary ellen thompson     photography by paul nurnberg
John Ellerbe grew up in Charleston, graduated from Charleston High and
received a degree in civil engineering from Clemson. He went to work
for a steel company in Denver, Colorado and after a bit, decided that
wasn't the career for him. So he took some night courses in investing
and found his way to Los Angeles, met his wife, Anna, and spent forty
years there as a financial consultant.
Gregarious and charming, John is a man with an interesting
passion – he collects board and card games. He has collected so many
games over the years that he had to build a museum for them. When he
finishes cataloging the games he will open his museum to guests
because John loves to talk about his games, and his passion is
infectious.
It all started when he was seven and his aunt came to town to
visit. "She took me out to buy me a present, I chose Monopoly. My dad
said it took so long to play that he called it 'monotony.'" By the
time John left for Denver, he had about thirty games. "When I came
back to Charleston, I asked Mom about my games and she said she'd
given them to poor children; the only one that survived was Monopoly,
which met its demise from my children playing it so much."
Monopoly, John explains, was a game first made by Lizzie Magie
who lived in Washington, DC and was called The Landlord's Game. In the
1930's, a Philadelphia businessman, Charles Darrow, made a new version
of the game set in Atlantic City, NJ and sold it to Parker Brothers
under the name Monopoly. Much ado ensued in the history of that story
and even though Lizzi Magie had patented the game, Darrow continued to
receive the credit. John goes on to say, "Most people play Monopoly
incorrectly, it should take about forty-five minutes to play but since
they don't know, or follow, the rules, it takes all night."
With Monopoly under his belt, John began his collection. Where,
you might ask, do you go to buy games, other than a toy store or maybe
a book store? You go to a gaming convention, which runs for three or
four days and has speakers, booths set up to sell, and auctions. There
are over 50 gaming conventions annually just in the United States.
"Attendance at conventions is up, game manufacturers are making more
games now than ever."
Just how many games are we talking about here? John says that the
website boardgamegeek.com has over 80,000 games listed. John became
serious about collecting in 1984, and now owns over 2,000 games!
About forty years ago, when he joined the Association of Game and
Puzzle Collectors (AGPC), John asked someone which games they thought
were the best to play, to which he received the reply, "Silly man, we
collect these to look at, not play!" And no, John has not played all
of the games in his collection. When asked which is his favorite, he
says his favorite card game to teach is Cribbage, "It's a great game
for two, it's easy to play, difficult to win and it's an instant dog
fight which makes it fun." Upon a bit more reflection, John clarifies,
"What I really like is the interaction of three or four people sitting
around a table; and one of my favorite games to play is Hey, That's My
Fish!, which is about penguins on an ice flow." After a bit more
conversation and consideration, John allows that "The game I like best
is the one I'm playing with a good opponent." And finally he says,
"Probe is one of my favorite games, it's a word game. But I don't play
much because no one wants to play with me since they think I'll win."
Anna, on the other hand, doesn't quite share the depth of John's
love of games. "They are not my thing, but I'll play. I like word
games instead of strategy games; my favorite card game is Wizards."
When John and Anna thought about where they would retire when the
time came, Charleston was at the top of their list. However, a good
look at South of Broad proved to John that time changes everything and
the town he remembered from his childhood was now filled with traffic,
college students, and cruise ship passengers. John and Anna, like the
rest of us who had the good sense to find our way here, came to
Beaufort, where they fell in love with the town of Port Royal.
As a couple, they like to travel, and read. Anna's favorite genre
is mysteries. John prefers non-fiction and history and says they have
about 3,000 books in their library; "I was able to read before first
grade and I never stopped." Anna serves on the boards of Help of
Beaufort and Historic Port Royal Foundation, a member of the Historic
Commission of the Town of Port Royal, is involved with 100 Women Who
Care, and tutors at Port Royal Elementary School. John has served on
the Design Review Board and the Historic Port Royal Foundation. "We're
a team," he declares with pride.
One of John's favorite stories about collecting is when he and
Anna went to an auction in New Hope, PA that was held by Noel Barrett
who is the Antiques Roadshow expert in toys and games. The highlight
of the show was the game, Bulls and Bears, from the 1800's and was the
only one believed to be in existence at that time, and sold for
$30,000! But John managed to pick up the unusual Major League Baseball
Game with a board that folded out into two pieces and had the rosters
of the 1921 baseball teams, including Frank Ellerbe, who played third
base for the St. Louis Cardinals. He tells of another time when they
flew to England for only two days for an auction where he bought seven
boxes of games.
When John isn't unpacking the 200 boxes of games that have been
in storage for the past ten years, or cataloging them, and arranging
them on the shelves of his museum, he likes to write and has been
writing a column for Association of Games and Puzzles Collectors
quarterly magazine for years. "There are 84 categories of games and my
goal is to write about each one of them. My collection has games in
fifty of the categories. When my museum is finished, every set of
shelves will be a category and then I'll begin the process of
auctioning them off."
John's game categories begin with "Abstract Strategy" and end
with "Word". One of his prettiest games is Seaside Frolics – Shrimpton
on Sea, an Edwardian Seaside Holiday Game with over 250 beautifully
illustrated miniature postcards that you collect along the way as you
visit as many attractions as you can. Some other interesting games are
one that soldiers played in WWII – Trap the Jap in Tokyo. Noteability
has a miniature grand piano on which you play songs and see who can
identify them; Plague is about the black plague, and Twilight Struggle
has had the #1 rating on the database of 80,000 games, for over 8
years.
Sign up for John's OLLI class at USCB on February 10th and 17th
from ten o'clock until noon in which he will explain the evolution of
games from ancient history to mid-history in the first class, and
mid-history to modern in the second. Strike up a conversation after
class and get invited to the museum; it will make you want to rummage
through your closets for that favorite old game you used to love.