Breakwater Restaurant and Bar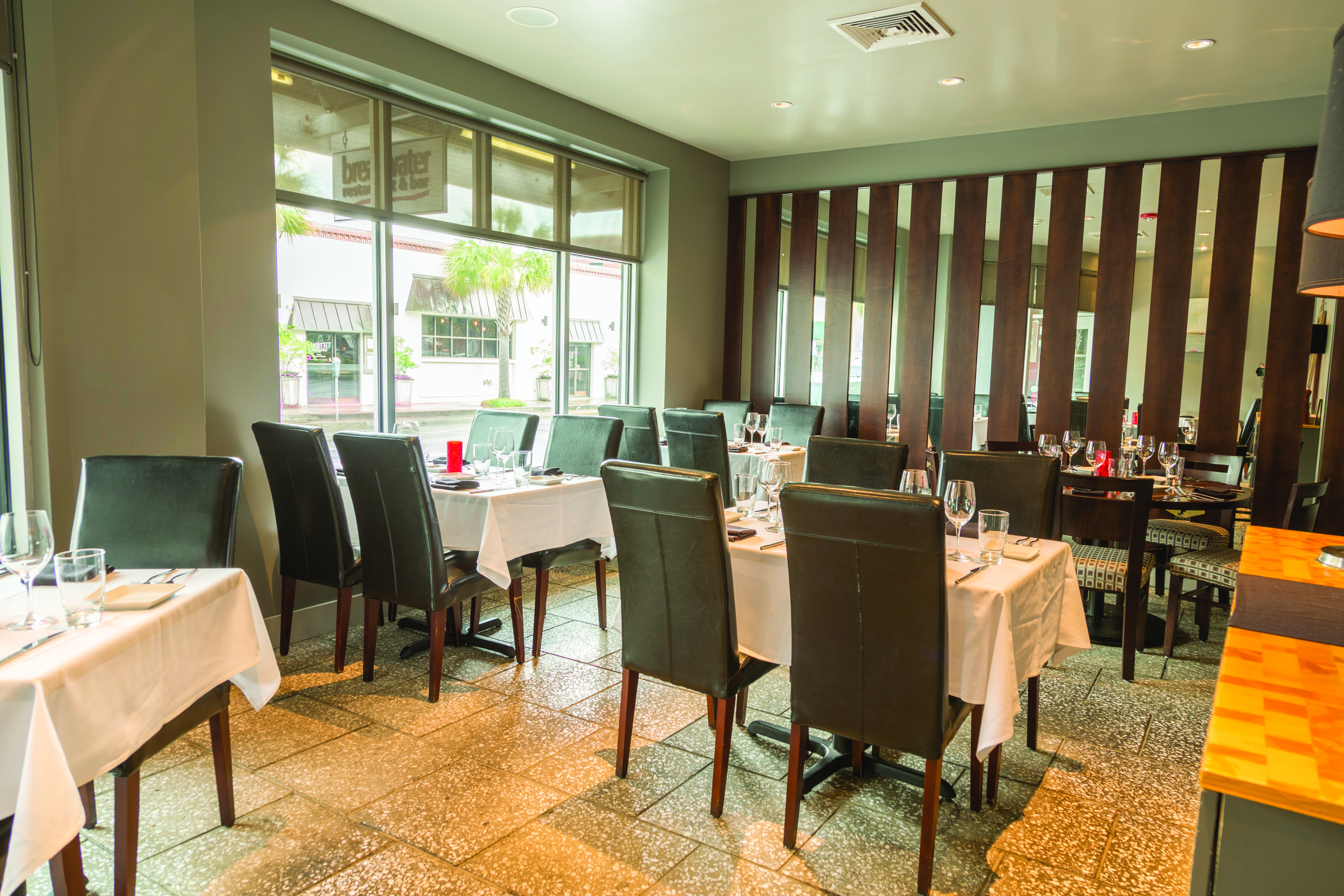 Chic, cozy, and casual all at the same time, Breakwater Restaurant and
Bar is a restaurant where you can go dressed in shorts and flip flops,
or your little black dress and pearls, and be equally comfortable. Not
only is the vibe fun and welcoming but the food is also exquisite,
mostly because Donna and Gary Lang and Beth Shaw's dedication to
excellence rivals Carrie Bradshaw's passion for Manolo Blahniks.
Want a fancy dinner? Done. Want to celebrate a special occasion?
Done. Want a private dining room surrounded by 1300 bottles of fine
wine? Done. Want to grab a bite and a beverage and walk out the door
without breaking the bank? Done.
You can choose between sitting at the bar where you're likely to
strike up a conversation with your barstool neighbor, or at a high top
table in the bar where you can survey the scene, or at a cozy table in
the room in front of the bar where you can whisper, or in the main
dinning room. Don't forget about the wine room which seats up to
twelve and you can show off your party animal for all the bar to see,
or close the drapes and make everyone wonder what you're up to, or
just be private.
Now that it's summertime, Breakwater has, in addition to the
regular menu, weeknight specials that are not to be missed:
Monday – moules and frites, or steak and frites (in case your
multi-linguistics are on the fritz, moules is French for mussles,
frites is French for fries)
Tuesday: Taco Tuesday – chef's choice of tacos
Wednesday: Farmers Market Menu – 3 courses based on what's fresh and
exciting from the local farmers market, plus the added bonus of 1/2
priced wines
Thursday: Thin Crust Thursday – a choice of flatbread pizzas. (Sigh, yum.)
Can't choose which suits you best? Try them all, it's a great way to
spend the summer.
On weekends, the restaurant still offers all the seasonal choices
that make your mouth water. Need comfort? Order the Southern Fried
Chicken served with red skin mashed potatoes, haricots verts and cream
gravy. Seeking your seafood fix? How about the Southern Fried Shrimp,
Spicy Southern Calamari, Blackened Mahi, Fresh Catch, Pan-Seared
Scottish Salmon; or the Diver Scallops which are pan-seared and served
with creamy chive and corn risotto, basil and mint pesto, and
watermelon radish.
Or maybe you're just in the mood for something light – like the
seasonal salad and lamb chop tapas. Don't try to tear this page out
and eat it – make a reservation.
Of course the wine, beer, and cocktail selections are extensive
and interesting, so if you're just there to socialize, order a glass
of wine and try the Pimento Cheese Plate for a nibble.
If all of this isn't enticing enough – the food is locally
sourced and ninety-eight percent of it comes into the kitchen in
ingredient form and is made there. Gary Lang describes it as a "from
scratch kitchen." He continues, "Our sauces aren't roux and butter
based, they are made from stock reductions and we make our own stock."
Now we're approaching healthy and natural and local. Local sourcing
relationships are such an important part of the economy and the
ensuing enjoyment of the food itself, as well as a matter of pride to
the restaurant and the supplier alike.
Enough about the food for now. Let's talk about the dynamics.
Three business partners for fourteen years, and best friends to boot.
How does that work? Gary and Beth are the chefs, Donna's forte is the
business side as general manager. Gary grew up in Gainsville, GA where
his mother owned a deli that grew into a catering business. When he
was in college in Atlanta getting his degree in real estate and urban
development, he worked as a waiter at Steak and Ale, then at Gregory
Scotts which was, he says, "When I got the bug, it was during the
blackening craze, and the food was not only good but creatively
prepared."
Originally from Birmingham AL, Beth started out with a degree in
civil engineering, but knew she wanted to go to culinary school so she
took the money she made from engineering and put herself through
Johnson and Wales in Charleston, then went to Montana to intern. (Now
she's putting that engineering background to good use as she's
studying equipment repair part time at TCL because there is a lot of
equipment in a restaurant kitchen.)
Donna was living in Atlanta, Gary was in Memphis, and one weekend
when he came to visit, Donna took him to an open house for the
culinary program at the Art Institute of Atlanta. They moved up their
wedding plans, took off on their honeymoon and Gary enrolled in the
culinary program; "At 35, I was the oldest one there."
When his program was finished, Gary and Donna started to look for
a restaurant on the coast, found Bistro on West Street in Beaufort and
bought it. Meanwhile, Beth finished her internship, wanted a job in
Beaufort and knocked on their door. She started out making salads,
became a line cook, second sous-chef, and sous-chef in rapid
succession. Then she became their business partner and it's been a
relationship that works beautifully for all of them.
When in the kitchen, Gary and Beth draw on their upbringing for
inspiration. The fried shrimp recipe comes form Gary's mom; the
pimento cheese from Beth's mom. They have taken the traditional
Southern food that we all love and made it lighter and healthier,
without sacrificing any of the flavors. And then there is the
selection of desserts which are always something that cannot be easily
resisted.
There are some favorites that never seem to leave the menu, or if
so, for very long. One of the most popular choices is the tuna
tartare. As a matter of fact, Gary says this is a dish that is just
popular nationwide. He wasn't planning on putting it on the menu in
their Greenville restaurant but people insisted. The recipe has been
through a few incarnations with the tuna being paired with a soy based
glaze, avocado, or Thai chili sauce at one point. This is the
description currently on the menu: "Tuna Tartare (based on
availability) sushi grade tuna marinated in a house made volcano
sauce, lime, green onions, wasabi pistachio puree, pickled cucumber &
ginger salad, wonton crisps." How could you resist?
Wander on in, look for a seat at the bar, or make a reservation,
and have a lovely evening; just reading the menu is indulgent as you
can almost feel the flavors tease your palate. Enjoy!
Breakwater Restaurant and Bar: 102 Carteret Street, Suite 102,
Beaufort SC 29902
(843) 379-0052   www.breakwatersc.com
story by mary ellen thompson     photography by paul nurnberg
– See more at: http://www.beaufortlifestyle.com/breakwater-restaurant-and-bar/#sthash.qBLECTO5.dpuf